Family at the airport
Security Checks
Children and their accompanying adults can access the security checks through a dedicated Priority Lane.
Pregnant women who do not want to pass through the metal detector can request to be manually checked by a female security officer.
are allowed for the limits of the liquids that can pass through security. In these cases, it is allowed to exceed the limit of 100ml (3.4 onces) and to not have to seal the products in 1-litre plastic bags. The exemption applies to amounts of necessary food and liquids depending on flight-time and the need of the baby. These products must nevertheless be presented separately from the hand luggage before security checks.
Exemptions are also allowed for to carry liquid medicines necessary for passengers. These products must however be presented separately from the hand luggage before security checks.
Strollers
At Marco Polo Venice Airport, you can take strollers through the security checks and up to the gate. In this case, the stroller must be labelled at the check-in desk, and then remains at your disposal until boarding. Depending on the airport of arrival, it will be handed over to you at the exit of the aircraft or in the baggage pick-up bay. Alternatively, the stroller can be directly taken onto the plane, after informing the check-in desk, which will label it as hold luggage to be handed back at the oversize baggage gate near the security checks. From then on the stroller will no longer be at your disposal to as far as baggage pick-up at your airport of arrival.
Nursery and breastfeeding rooms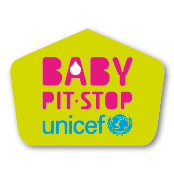 At Venice Marco Polo Airport, mums can use the Baby Pit-Stop breastfeeding rooms, which have been created at four points inside the terminal, as well as the changing tables in the same rooms, and in some women's toilets, for changing your baby in peace. You can see the various services for mothers on this map.
Children flying alone
The journeys of the unaccompanied minors are subject to restrictions and rules established by airlines.
Most airlines allow children to travel alone using an unaccompanied minor service from 5 years. Depending on the airline, minors may travel without assistance from 12, 14, 16, or 18 years.
Contact your airline to get information about their policy for unaccompanied children.
Be also sure to have all the required ID card/ passport and any other documentation required for unaccompanied traveling children.
Departing from Venezia Airport
Children departing from Venice Airport must be accompanied to the flight's check-in counter by the adult indicated in the documentation. The child will then be taken over by the staff assigned by the airline.
Arriving at Venezia Airport
The adult indicated in the documentation provided to the airline should contact the Lost & Found office of the reference handler of the airline, which is located next to Arrivals on the ground floor.